Town 'N' Country, FL Pest Control
Professional Pest Management For Town 'N' Country, FL
Just a 30-minute drive from the city, Town 'n' Country, FL, is a great place to live, work, and play. Not only is it close to city life, but it's just minutes from famous Florida beaches and Old Tampa Bay. It's no wonder why people flock to Town 'n' Country with what it has to offer. However, people aren't the only ones that flock here. Pests are eager to get into local properties to access food, water, and shelter sources, putting your home or business in harm's way. If you want to effectively guard your Town 'n' Country property against infestations, your best bet is help from the pros.
Bold Servicing provides comprehensive residential and commercial pest solutions to properties throughout Hillsborough County and the surrounding areas. We are a family-owned and operated business that is proud to bring premium pest services to the greater Tampa area. Contact us to discuss your pest control needs today, and we'll get started.
Home Pest Control In Town 'N' Country, FL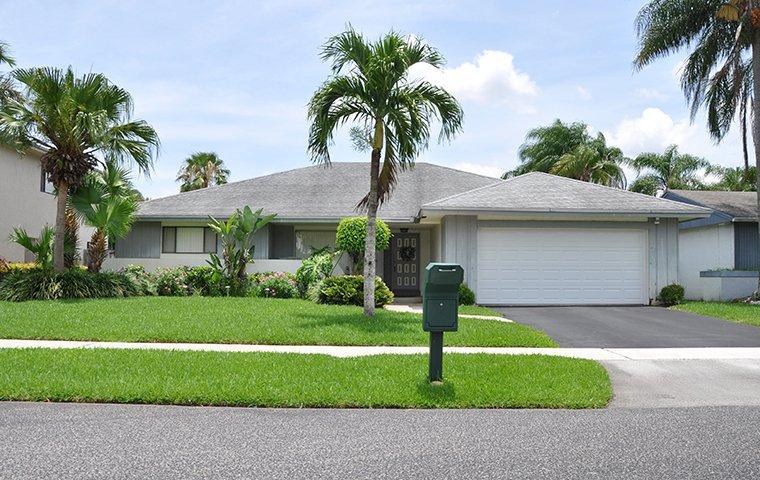 The best way to guard your home and your loved ones from the dangers of a pest infestation is to call in the experts. Our home pest solutions in Town 'n' Country, FL, have serviced over 1,000 local residences. Here at Bold Servicing, we provide our valued customers with "The Bold Advantage," offering premium services by focusing on these core principles:
People - From our employees to our customers, we're in the people business.
Products - We offer the highest quality, most effective products that are safe for your loved ones and pets.
Service - Our team provides a customized approach that varies from one home to the next.
After we complete treatment, we'll come back throughout the year to keep pests away for good. We value hard work, dedication, honesty, truth, and dependability. Being there for our customers is our top priority, and we promise pest-free results that last. Reach out today to learn more.
Commercial Pest Control In Town 'N' Country, FL
If you want to avoid commercial pest infestations, securing the proper protection for your Town 'n' County business is crucial. The team at Bold Servicing offers comprehensive commercial pest control services in Town 'n' Country, FL, that local business owners can rely on all year long. We work with a brand range of properties, providing continued coverage from common area pests. Some of the facilities we work with include doctor's offices, schools, warehouses, daycares, train yards, and government-regulated facilities.
We specialize in commercial solutions for general pest control, rodent control, wildlife control, and bed bug control. Our pest-free guarantee promises free re-treatment if pests return between service visits. Whatever pest problem your business is facing, we're here to help. Contact us today to get your free estimate and inspection.
Are The Rodents Difficult To Control In Town 'N' Country, FL?
Your Town 'n' Country property is no place for rodents to hang out. Unfortunately, they can be pretty sneaky about gaining entry into local homes and businesses. Rodents are extremely destructive pests that are upsetting to see and very harmful. Not only do rodents bite, but they also spread germs and bacteria, contaminating every inch of your property and putting you at risk of contracting hantavirus, bubonic plague, salmonellosis, rat-bite fever, LCM (lymphocytic choriomeningitis), and tularemia.
It can be tough to tackle the infestation yourself. The fact is that rodents have likely spread through your wall voids, meaning there are multiple populations and nests throughout the property. They also breed at the speed of light, so the minute you think you've eliminated one rodent family, there are plenty of others to address.
It's beyond overwhelming, and it's not something you want to deal with alone. That's why we're here to deal with it for you. The most effective form of rodent control and prevention in Town 'n' Country, FL, is regularly scheduled services from pest professionals. Call in the experts at Bold Servicing today to address all of your rodent control needs.
The Dangers Of Spiders Living In Your Town 'N' Country Home
Florida's warm weather and pleasant year-round climate make Town 'n' Country an enticing place for spiders to set up shop. A spider infestation is something that no homeowner wants, but sometimes it occurs, and it's good to know the dangers you're facing.
There are various spider species in the area; the most common are wolf spiders, house spiders, and spiny orb weavers. The good news is that these unwelcome guests aren't harmful to humans. While they each carry venom they inject into your skin whenever they bite, most spiders don't have venom strong enough to cause people harm. There are, however, two species to be on the lookout for.
The brown recluse and the black widow are the two species with venom strong enough to harm humans. Fortunately, it's rare for people to die from these bites, though they require immediate medical attention. If you want guaranteed protection from spiders, call Bold Servicing. We are your local source for quality spider control and prevention in Town 'n' Country, FL, services, so call us today for a consultation, and we'll get the ball rolling.
Pest Control Plans
Part of offering a customized approach means offering a variety of plans so that you can pick the one that best fits the needs of your property!
"I use Bold for my pest control and they have been great! The techs Marcus and Rich are really top notch and possess amazing customer service."

Delfina E.