Riverview, FL Pest Control
Professional Pest Management For Riverview, FL
Riverview, FL, is a beautiful Tampa suburb just 15 minutes outside the city. It's near a variety of nature preserves, parks, and springs, and it's a great place to call home. Unfortunately, pests also like to call Riverview home. When pests get into our homes and businesses, they wreak havoc in many ways and compromise your property, health, and safety. It's vital to secure the proper pest protection, and that's why the team at Bold Servicing is here.
We are a family-owned and operated pest control company committed to providing exceptional residential and commercial pest solutions. We value hard work, dedication, honesty, truth, and dependability. Being there for our customers is our top priority, and we promise pest-free results that last. Contact us today to get complete pest coverage for your Riverview home or business. We service properties throughout Hillsborough County and the surrounding areas, bringing premium pest services to the greater Tampa area.
Home Pest Control In Riverview, FL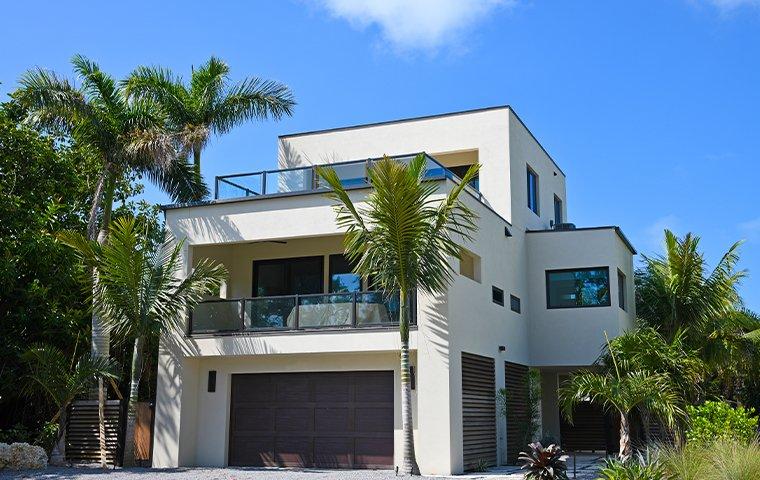 Riverview is such a great place to own a home, and pests are just as eager to settle down here. When your home gets infested by pests, you and your loved ones can be in danger. The best protection you can get is from a team of qualified pest professionals. Our home pest solutions in Riverview, FL, provide homeowners with premium pest coverage, protecting homes from a variety of common area intruders such as mosquitoes, rodents, ants, fleas and ticks, bed bugs, occasional invaders, stinging insects, cockroaches, spiders, and beetles. We provide a broad range of pest treatments, some of which include:
The use of a liquid residual product.
A focus on foundations, eaves, and nesting sites in the yard.
The sweeping down spider webs and pool covers.
The placement of granules in the yard.
The application of dusts and baits where necessary.
The Bold Servicing team has treated over 1,000 local homes, bringing homeowners the best pest protection in the area. Using IPM (Integrated Pest Management) strategies, we can target the core of the problem. Whatever kind of household pest problem you're facing, we've got your back. Call us today for your free quote and inspection.
Commercial Pest Control In Riverview, FL
The best way to protect your Riverview business from pests is to rely on a team of trusted pest experts. Here at Bold Servicing, we've worked with many types of businesses, providing dependable commercial pest solutions that local business owners can feel good about. Some of the facilities we service include doctor's offices, schools, warehouses, daycares, train yards, and government-regulated facilities. We specialize in commercial solutions for general pest control, rodent control, wildlife control, and bed bug control. We also provide ongoing services monthly or bi-monthly, depending on your needs.
With "The Bold Advantage," our customers get premium pest services focusing on three core principles — people, products, and services. From our employees to our customers, we're in the people business. We use the highest quality, most effective products that are safe for your customers and employees. Our team always takes a customized approach to cater to your needs. Get in touch with us today to discuss your commercial pest control solutions in Riverview, FL; it's never too early to secure the best pest protection for your Riverview business.
Four Easy Cockroach Control Techniques In Riverview, FL
Not only are cockroaches an upsetting sight to see in your Riverview home or business, but they also cause widespread contamination. If you want to do everything you can to reduce your chances of experiencing a cockroach infestation, there are some preventative measures that you can take. Here are four easy cockroach control techniques to keep in mind:
1. Apply weatherstripping around windows and doors.
2. Don't leave any food out and store it in tightly sealed containers.
3. Keep your property clean and free of clutter.
4. Reduce sources of humidity and excess moisture.
While these are all great ways to avoid cockroaches, none of them are entirely reliable on their own. Contacting professionals is the best and most effective way to protect your property from a cockroach infestation. Here at Bold Servicing, we offer complete cockroach control and prevention in Riverview, FL, services that leave you with lasting results. Get in touch with us today to get started.
Are The Rodents In Riverview Harmful To Humans?
Rodents aren't just nuisance pests; they're also very dangerous for your property and everyone inside it. They're incredibly unsanitary, they breed rapidly, and they can have some severe consequences. Here are some of the negative repercussions rodents bring:
Rodents can bite and transmit diseases.
They gnaw through electrical wiring, risking house fires.
Rodents breed rapidly, spreading the infestation.
They make scampering sounds inside wall voids.
Their constant chewing can cause weakened construction.
Rodents cause widespread contamination.
Your best bet is to call in professionals to protect yourself and your property from these threats. The team at Bold Servicing is proud to offer quality rodent control and prevention services to keep you thoroughly protected from pests all year long. Reach out to discuss your rodent control solutions in Riverview, FL, today; we're here to help you.
Pest Control Plans
Part of offering a customized approach means offering a variety of plans so that you can pick the one that best fits the needs of your property. Our three residential pest control plans are Bronze, Silver, and Gold.
"I use Bold for my pest control and they have been great! The techs Marcus and Rich are really top notch and possess amazing customer service."

Delfina E.