Palm Harbor, FL Pest Control
Professional Pest Management For Palm Harbor, FL
Palm Harbor, FL, is a beautiful Tampa suburb with a small-town feel and suburban charm. However, when pests enter the picture, that charm disappears. These intruders are a year-round problem for Palm Harbor property owners, and the threat of an infestation is real. To effectively protect your home or business from pest infestations, the best thing you can do is reach out to a team of experienced pest experts.
Bold Servicing is a premium pest control company proud to service homes and businesses throughout Pinellas County and the surrounding areas. Our family-owned and operated company runs on the principles of people, products, and customers. Get in touch with us today to discuss your residential or commercial pest control needs; we're eager to help.
Home Pest Control In Palm Harbor, FL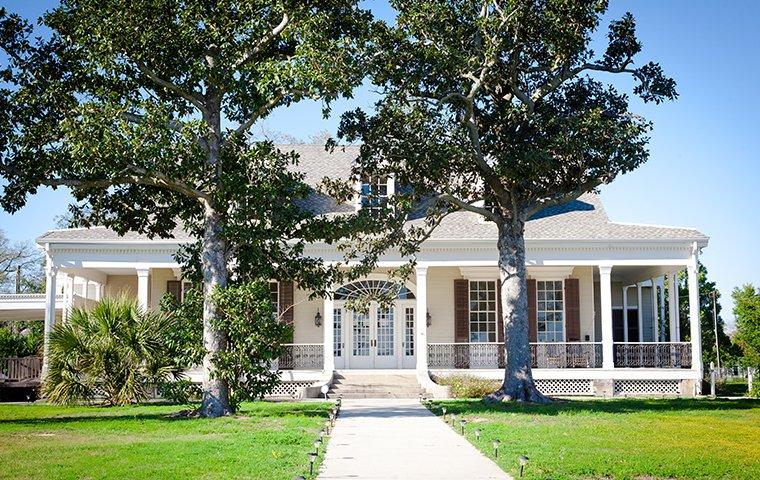 Your Palm Harbor home is where you and your loved ones should feel 100% safe from outside threats, but what about household pest infestations? Pests pose an ongoing threat to your house and your family, and that's why you should rely on our home pest control solutions in Palm Harbor, FL.
We start with a thorough inspection, including an exterior inspection to look for pest activity, conducive conditions, nesting sites, and an examination of the foliage. We then identify spider webs, wasp nests, and ant trails. We inspect 15 to 20 feet out from the foundation.
Next, we move onto an interior inspection to check areas around water sources and identify possible entry points.
Once we've identified the nature of the infestation, we customize a treatment plan to fit your needs. We've serviced over 1,000 homes in the area, so you can trust our knowledge and experience to get the job done right. Our pest-free guarantee promises free re-treatment if pests return between service visits. Reach out today to get your free estimate and inspection.
Commercial Pest Control In Palm Harbor, FL
Palm Harbor is a great place to own a business, but that doesn't mean you're immune to the nightmare of pest infestations. If you want to guard your property against pest activity, it's a good idea to reach out to the pros. Bold Servicing offers complete commercial pest control services in Palm Harbor, FL, that local business owners can rely on.
Four Signs You Need Professional Rodent Control For Your Palm Harbor Home
Your Palm Harbor home is no place for rodent activity. These unsanitary pests bring bacteria and pathogens into your home when they infest, causing large-scale contamination. It's important to detect signs of rodent activity so that you can deal with an infestation as soon as possible. Here are four indications to watch for:
1. Scratching and scampering sounds coming from inside the walls at night
2. Signs of chewing and gnawing on food packaging and along walls
3. Rodent droppings left around actively infested areas
4. Rodent nesting materials like shredded paper, dried plant matter, fabric, etc.

If you notice any of these signs, the best thing you can do is contact a team of highly experienced pest experts. Here at Bold Servicing, we offer complete rodent control and prevention services to protect your Palm Harbor home and your loved ones inside of it from the dangers of a rodent infestation in Palm Harbor, FL. Call us today.
How To Keep Bed Bugs Out Of Daycares In Palm Harbor
Discovering a bed bug infestation is a complete nightmare, no matter where it is. However, there's something alarming about bed bugs in a daycare facility. Daycare is somewhere parents take their kids, entrusting the staff with their most precious cargo. The thought of bed bugs biting the kids and feeding on their blood is beyond upsetting. Not only does it compromise the trust that families have in your institution, but it also means they could be bringing bed bugs back into their homes after daycare.
If you want to do everything you can to keep bed bugs out of your Palm Harbor daycare facility, there are some things you can do. Keep the space clean, pick up clutter, and eliminate stray piles of clothing or linens. Regularly vacuum and steam clean all the areas around beds, near furniture, flooring, etc. Do laundry daily and wash and dry linens on very high heat. Also, be sure to inspect all items that enter your home, like luggage, clothing, furniture, etc.
If you think there may be bed bugs in your daycare facility, reach out to the professionals right away. The team at Bold Servicing provides comprehensive bed bug control services that detect and eliminate any bed bug activity around your property. Protect the kids, protect their families, and protect your reputation by giving us a call today. We're here to assist you with all of your bed bug control solutions in Palm Harbor, FL.
Pest Control Plans
Part of offering a customized approach means offering a variety of plans so that you can pick the one that best fits the needs of your property!
"I use Bold for my pest control and they have been great! The techs Marcus and Rich are really top notch and possess amazing customer service."

Delfina E.