Lutz, FL Pest Control
Professional Pest Management For Lutz, FL
Located just fifteen miles from Tampa, the suburb of Lutz, FL, is a peaceful place that offers a calm escape from city life. However, humans aren't the only ones seeking refuge here in Lutz. Local pest populations love it here just as much as we do, and they're constantly on the lookout for food, water, and shelter. Because local homes and businesses have plenty of available sources, pests are eager to get into our properties. All Lutz property owners should be wary of pest infestations, and the best protection you can get is from a team of qualified experts.
Bold Servicing is here to protect local homes and businesses from pest activity. We are proud to service properties throughout Hillsborough County and the surrounding areas, protecting locals from the many dangers of an infestation. We value hard work, dedication, honesty, truth, and dependability. Being there for our customers is our top priority, so call us today to get started.
Home Pest Control In Lutz, FL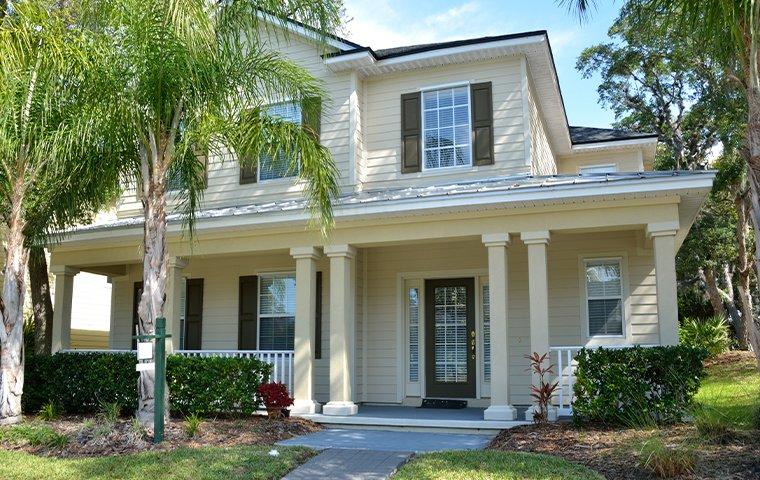 As a local homeowner, it's a good idea to address your home pest control needs in Lutz, FL. Bold Servicing works with over 1,000 local homeowners, providing coverage from household pest infestations.
We start with a thorough inspection, including an exterior inspection to look for pest activity, conducive conditions, nesting sites, and an examination of the foliage. We then identify spider webs, wasp nests, and ant trails. We inspect 15 to 20 feet out from the foundation.
Next, we move onto an interior inspection to check areas around water sources and identify possible entry points.
After we finish inspecting the property, we get right to work developing a proper treatment approach for your infestation. Some of our treatment options include:
The use of a liquid residual product.
A focus on foundations, eaves, and nesting sites in the yard.
The sweeping down spider webs and pool covers.
The placement of granules in the yard.
The application of dusts and baits where necessary.
With "The Bold Advantage," our customers get premium pest services with a focus on three core principles — people, products, and services. From our employees to our customers, we're in the people business. We use the highest quality, most effective, safe products for you and your family, and we customize our services to meet your needs. Contact us today to get started.
Commercial Pest Control In Lutz, FL
As a Lutz business owner, pest activity is a real threat that you need to prepare for. Here at Bold Servicing, our reliable commercial pest control solutions in Lutz, FL, offer complete pest protection to a long list of facilities, including doctor's offices, schools, warehouses, daycares, train yards, and government-regulated facilities.
Our team has the experience needed to deal with many local area pests, including mosquitoes, rodents, ants, fleas and ticks, bed bugs, occasional invaders, stinging insects, cockroaches, spiders, and beetles. Whatever pest problem you're having in your business, we're here to help. Reach out to us to discuss your commercial pest control needs.
Five Effective Ant Control Methods for Lutz Homeowners
It can be very overwhelming to discover ants on your Lutz property. They are so tiny that they can fit into the smallest openings to get inside your home. Once they get inside, they breed rapidly and spread their populations, building colonies all over the premises. If you want to be proactive in your efforts to control ants around your home, here are five effective tips to consider:
1. Seal off entrances and block access points by repairing cracks and crevices along the foundation.
2. Spray an ant barrier insecticide around your home.
3. Eliminate access to food by keeping food in airtight containers.
4. Eliminate sources of excess moisture throughout your home.
5. Clean up spills and crumbs immediately, and wipe down surfaces to clean up residue and food remnants.
It's great to be proactive in your ant prevention efforts, but the safest way to handle the situation is to rely on professional pest control services. Reach out to Bold Servicing today to hear about our ant prevention methods in Lutz, FL, and how you can help protect your home from infestations.
How Do Bed Bugs Get Into Lutz Businesses?
A bed bug infestation is a huge nightmare that no business owner wants to face. They can be pretty sneaky about gaining entry into your facility. You can usually find them around furniture, in clutter, linens, sheets, and various other harborage areas around the building. But how do they get into local businesses in the first place?
Well, there are a variety of ways they can gain entry to your business. Their primary food source is human blood, so you will likely find bed bugs anywhere there is frequent human activity. Bed bugs get from one place to another by hitchhiking via a person or object moving between rooms or locations. They can also get inside on package deliveries or furniture. So, bed bugs in your business can come from anywhere. Customers or employees can bring them in, or perhaps shipments and boxes going in and out of the property.
If you want to secure dependable protection from bed bug activity, the best thing you can do is call in the experts. The team at Bold Servicing offers comprehensive bed bug detection and extermination services in Lutz, FL. We'll treat your business from top to bottom to ensure you have complete protection from an infestation. Call us today.
Pest Control Plans
Part of offering a customized approach means offering a variety of plans so that you can pick the one that best fits the needs of your property!
"I use Bold for my pest control and they have been great! The techs Marcus and Rich are really top notch and possess amazing customer service."

Delfina E.