Land O' Lakes, FL Pest Control
Professional Pest Management For Land O' Lakes, FL
Land O' Lakes, FL, is a lovely suburb located within a half-hour of the city. We have many natural parks, wineries and breweries, and many fun things to do around town. Unfortunately, while we're out enjoying all Land O' Lakes has to offer, local pest populations are trying to get into our homes and businesses. Your property is susceptible to pest infestations all year long, and that puts you in harm's way. If you want to protect your Land O' Lakes property against pest infestations effectively, you've come to the right place.
Welcome to Bold Servicing. We are a family-owned and operated company that services homes and businesses throughout Pasco County and the surrounding areas with premium pest control services. Whatever kind of pest problem you're dealing with, we've got your back. We maintain a true dedication to customer service, and we work hard to bring you lasting results that you can feel good about. With "The Bold Advantage," our customers get premium pest services in the area. Reach out today to learn more.
Home Pest Control In Land O' Lakes, FL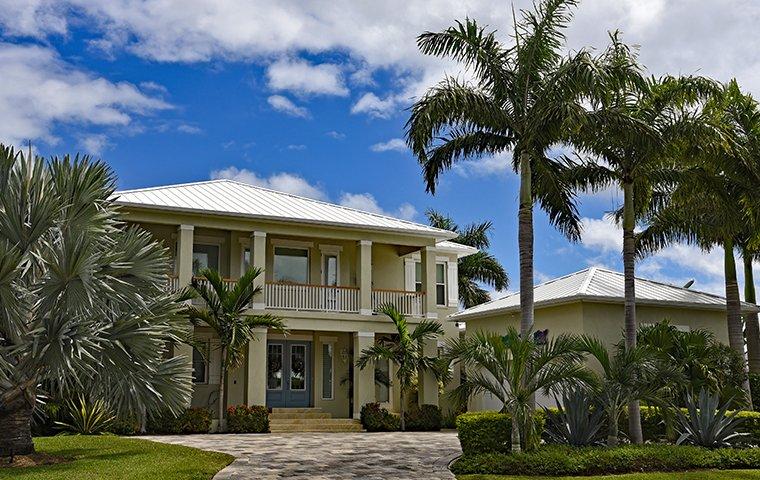 Your home is susceptible to the nightmare of household pest infestation. The only way to get the lasting protection you and your family deserve is to rely on a team of experienced pest professionals. The team at Bold Servicing is here to provide you with year-round home pest control services in Land O' Lakes you can trust. We cover the entire interior and exterior of your home, providing a variety of services, such as:
The use of a liquid residual product.
A focus on foundations, eaves, and nesting sites in the yard.
The sweeping down spider webs and pool covers.
The placement of granules in the yard.
The application of dusts and baits where necessary.
Using IPM (Integrated Pest Management) strategies, our team targets the core of the problem, bringing premium pest protection to over 1,000 residents throughout the greater Tampa area. No matter the nature of your pest infestation, we guarantee lasting results that you can trust. Reach out to us today to get your free estimate and inspection.
Commercial Pest Control In Land O' Lakes, FL
Your Land O' Lakes business is unfortunately vulnerable to pest infestations. If you're looking for guaranteed protection from pest activity, the best thing you can do is seek out help from a team of highly qualified pest professionals. Bold Servicing is proud to offer full pest coverage that local business owners can depend on.
We work with various facilities including, doctor's offices, schools, warehouses, daycares, train yards, and government-regulated facilities. We specialize in trustworthy commercial pest solutions for your Land O' Lakes business, general pest management, rodent control, wildlife control, and bed bug control. Our pest-free guarantee promises free re-treatment if pests return between service visits. Give us a call to get your complimentary estimate and inspection; we're here to help.
How To Control The Ants In Your Land O' Lakes Home
Finding ants in your Land O' Lakes home isn't ideal. One of the reasons ants can be so upsetting is because of their size. They're so tiny, and they can fit into the smallest openings, cracks, and crevices to gain entry into your house. If you want to take precautionary measures to help reduce your chances of experiencing an ant infestation, here are some helpful prevention methods to keep in mind:
Clean up spills and crumbs immediately as they happen.
Keep food in airtight containers and keep trash in a lidded bin.
Regularly sweep and vacuum your area, and keep things tidy in general.
Repair cracks and crevices and seal off any potential entry points.
These tips offer you a good jumping-off point, but your best bet is still to contact the pest professionals. Bold Servicing provides comprehensive ant control and prevention services in Land O' Lakes, FL, that local homeowners can rely on all year long. Give us a call today to get started; we're here to eliminate ants from your property for good.
Four Ways Land O' Lakes Residents Can Avoid Silverfish
Silverfish are metallic-looking pests that move around like swimming fish. They destroy things made of paper, cellulose, and starch. They infest books, envelopes, wallpaper, upholstery, and other belongings that they can seriously damage over time. These destructive pests also feed on clothing, glue, rolled oats, and flour. If you want to prevent silverfish from getting into your home or business, here are four ways to avoid them:
1. Eliminate excess moisture around your house, and keep your clothing in dry areas.
2. Eliminate exposed piles of paper, cardboard, wood, and dead vegetation.
3. Store dry food in sealed containers in the cupboards.
4. Use a dehumidifier in bathrooms, laundry rooms, and kitchens.
If you think there may be silverfish on your property, we suggest you call in the pest experts right away. Here at Bold Servicing, we have the expertise to effectively eliminate silverfish from your property and keep them away for good. Contact us today for a complimentary estimate, and we'll set up your initial inspection as soon as possible.
Learn more about our premium pest prevention services in Land O' Lakes, FL.
Pest Control Plans
Part of offering a customized approach means offering a variety of plans so that you can pick the one that best fits the needs of your property!
"I use Bold for my pest control and they have been great! The techs Marcus and Rich are really top notch and possess amazing customer service."

Delfina E.