Lake Magdalene, FL Pest Control
Professional Pest Management For Lake Magdalene, FL
Lake Magdalene, FL, is a beautiful place with its 206 acres and freshwater namesake lake located in the town center. There are also smaller lakes to enjoy, such as Platt Lake, Lake Gass, and Lake George. There's no shortage of lakeside activities to participate in, and while we're out enjoying the water, there can be pests trying to get into our properties. Unfortunately, Lake Magdalene's home and business owners are vulnerable to pest infestations, and that's a huge headache you don't want to face, especially not alone. Luckily, you don't have to.
That's where Bold Servicing comes in. We are a family-owned and operated pest control company proud to service homes and businesses throughout Hillsborough County and the surrounding areas. We offer complete residential and commercial coverage from various common area pests, including mosquitoes, rodents, ants, fleas and ticks, bed bugs, occasional invaders, stinging insects, cockroaches, spiders, and beetles. We are a premium pest control company that offers premium services you can count on. Call us today to learn more.
Home Pest Control In Lake Magdalene, FL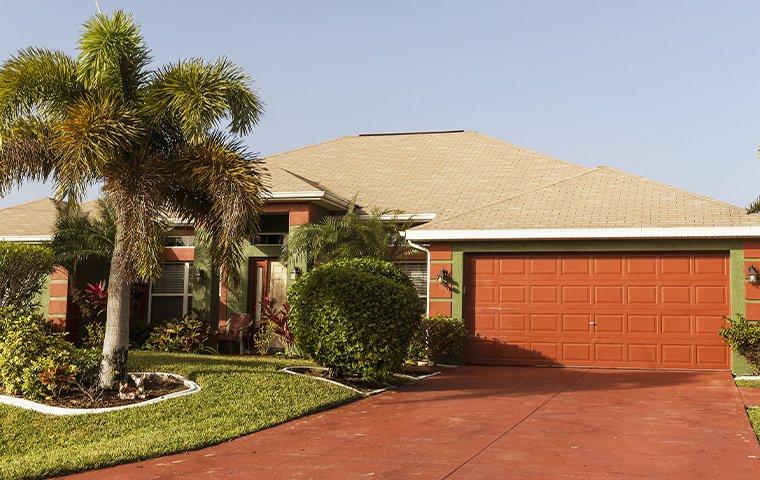 Your Lake Magdalene home deserves protection from pest activity, and you've come to the right place. Bold Servicing offers year-round residential pest control services in Lake Magdalene that local homeowners can trust.
We start with a thorough inspection, including an exterior assessment to look for pest activity, conducive conditions, nesting sites, and an examination of the foliage. We then identify spider webs, wasp nests, ant trails, etc. We inspect 15 to 20 feet out from the foundation.
Next, we move on to an interior inspection to check areas around water sources and identify possible entry points.
We've serviced over 1,000 homes in the area, providing comprehensive treatments that eliminate and prevent infestations. Whatever kind of pest problem you're facing, we're ready to help you. Contact us today to get your free quote, and we'll schedule your complimentary inspection as soon as possible.
Commercial Pest Control In Lake Magdalene, FL
If you own a business here in Lake Magdalene, your facility is in danger of experiencing a pest infestation. When pests get into a commercial setting, they can have detrimental effects. That's why we're here to help. Bold Servicing provides comprehensive commercial pest control solutions in Lake Magdalene, FL, that local business owners can count on.
We are proud to work with various local facilities, including doctor's offices, schools, warehouses, daycares, train yards, and government-regulated facilities. After we customize a treatment plan just for you, we cover the property from the inside out and return monthly or bi-monthly to keep things pest-free throughout the year. Reach out to us to further discuss your commercial pest control needs and how we can be of service.
The Importance Of Quality Bed Bug Control In Lake Magdalene
A bed bug infestation is a nightmare that can be beyond overwhelming. These parasitic pests spend the day hidden away and come out at night to feed on your blood. It's an intrusion that we all want to avoid. While many DIY treatment methods are on the market, professional bed bug control in Lake Magdalene, FL, is still your best bet. There are tons of benefits to relying on a team of pest professionals.

First of all, professional pest control is more affordable in the long run. When you count on the experts, you won't waste money on ineffective treatments that you'll end up having to do multiple times. It's also more efficient, and you won't waste time trying out different treatments that aren't as effective. Finally, it provides you with guaranteed safety & results.

The bottom line is that the knowledge and expertise of a professional pest control team are unmatched. For the best bed bug control services in the area, look no further than the team at Bold Servicing. We offer thorough inspections and guaranteed treatments that you can feel 100% confident about. Reach out to us today to discuss your bed bug control needs.
Here's How You Can Keep Spiders Out Of Your Lake Magdalene Home
Spiders are creepy, crawly intruders that cause contamination around your home. Not only that, but they're able to spread their populations rapidly, leading to a large-scale infestation. That's why it's a good idea to be proactive in your spider prevention in Lake Magdalene, FL. Here are some helpful ways to keep spiders out of your Lake Magdalene home:
Eliminate excess moisture by using dehumidifiers.
Install or repair window and door screens.
Keep your home clean and reduce clutter.
Keep your yard well-trimmed.
Routinely remove webs throughout your house.
Use caulk or foam to seal up cracks and crevices.
In the end, the most reliable source of protection from spider activity is help from the experts. Here at Bold Servicing, we have the experience to detect and remove common area spiders successfully, and we promise year-round spider management services that you can count on. Get in touch with us today to discuss your spider control and prevention needs.
Pest Control Plans
Part of offering a customized approach means offering a variety of plans so that you can pick the one that best fits the needs of your property!
"I use Bold for my pest control and they have been great! The techs Marcus and Rich are really top notch and possess amazing customer service."

Delfina E.