East Lake, FL Pest Control
Professional Pest Management For East Lake, FL
Located just an hour away from Tampa, the community of East Lake, FL, is filled with beauty and charm. It provides residents with a peaceful respite from city life, and the neighborhoods are just lovely. However, local pest populations are lurking about, seeking entry into our homes and businesses to access food, water, and shelter sources. Once they get inside, they can be tough to get rid of. That's why the best thing to do is secure ongoing services from a professional pest control company.
At Bold Servicing, we offer complete residential and commercial pest control solutions that East Lake property owners can trust. We are a family-owned and operated company committed to hard work, dedication, honesty, trust, and dependability. We're proud to service homes and businesses throughout Pinellas County and the surrounding areas, providing complete pest protection throughout the year. Call us today to get started.
Home Pest Control In East Lake, FL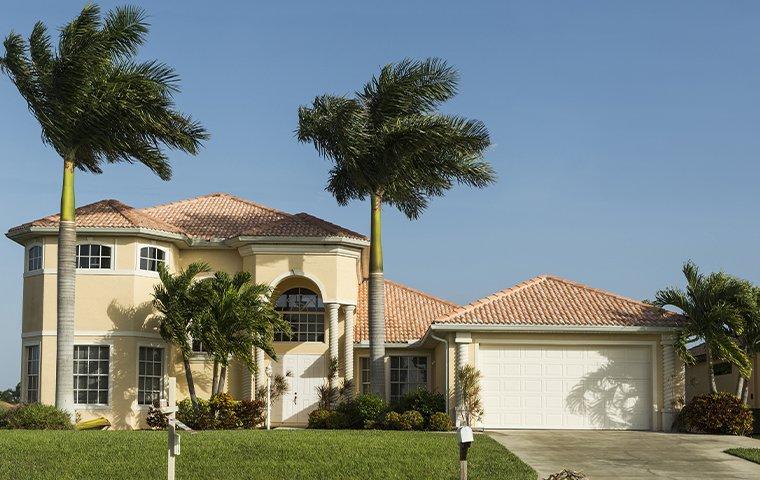 Owning a home involves a lot of hard work, and it can be hard to deal with on your own. When it comes to household pest infestations, we suggest getting help from the pros. The team at Bold Servicing provides reliable residential pest solutions in East Lake, FL, that homeowners and their loved ones can trust. After we finish identifying problem areas around the property, we get right to work developing a treatment strategy that's right for you. Some of our premium treatment options include:
The use of a liquid residual product.
A focus on foundations, eaves, and nesting sites in the yard.
The sweeping down of spider webs and pool covers.
The placement of granules in the yard.
The application of dusts and baits where necessary.
Whatever your pest control needs may be, we're here to help. We are proud to be a premium pest control company with premium customers. Your satisfaction is our greatest concern, and we customize all of our pest control programs to fit the specific needs of our valued customers. Reach out today for your complimentary home estimate and inspection.
Commercial Pest Control In East Lake, FL
The best way to guard your East Lake business against the dangers of an infestation is to get in touch with your local pest professionals. Here at Bold Servicing, our commercial pest control solutions in East Lake, FL, serve a broad range of properties, some of which include doctor's offices, schools, warehouses, daycares, train yards, and government-regulated facilities.
Give us a call today to learn more about our service plans and how we can help you guard your business against infestations all year long. Our pest-free guarantee promises free re-treatment if pests return between service visits. Our team is here for you from start to finish, so reach out today, and we'll get started.
Is DIY Mosquito Control Effective In East Lake, FL?
Mosquitoes love it here in Florida, and that means everyone on your property has exposure to a variety of harmful, vector-borne illnesses. Mosquito activity is something you want to prevent at all costs, and it can be tempting to try and deal with it on your own. Many East Lake property owners try and take it upon themselves to combat mosquitoes, but the truth is that these DIY prevention methods aren't effective.
Many DIY mosquito control methods involve barrier treatments, but barrier treatments don't target the source of the infestation. They give you temporary protection, meaning you'll have wasted a lot of time and money. Also, the use of chemical sprays can negatively impact wildlife and the environment, not to mention they can be harmful to your health if not applied properly.
In the end, most DIY methods only target adult mosquitoes, failing to eliminate the thousands of eggs laid around your property. It just doesn't make sense to waste your time on DIY mosquito treatments when you can quickly contact a team of pest professionals. Bold Servicing is here to help you with your mosquito control and prevention solutions in East Lake, FL. Call us today, and we'll get the ball rolling!
Should East Lake Residents Be Cautious Of Earwigs In Their Home?
Earwigs are attracted to humid places that are dark and damp. You'll usually find them under rocks, piles of decaying matter or lawn debris, bags of dirt, fertilizer, mulch, and in tree holes. If you're nervous about the potential harm of an earwig infestation, don't be. They cannot hurt you. They do not sting, are not poisonous, and pose no real threat to human beings. Earwigs sometimes use their pincers to pinch you if they feel threatened, but they can't hurt you, and most of the time, when they sense your presence, they will run in the opposite direction.

However, even though earwigs pose no real health threat to human beings, that doesn't mean that they're entirely harmless. As moisture pests, earwigs need moisture to survive. They're often attracted to mold and rotting and damaged wood. So, it's common for the presence of earwigs to be indicative of a more severe moisture problem throughout your home. The best thing to do with an earwig problem is to reach out to a team of experienced pest professionals. Here at Bold Servicing, we offer all kinds of treatments for common area invaders in East Lake, FL, so get in touch with us today.
Pest Control Plans
Part of offering a customized approach means offering a variety of plans so that you can pick the one that best fits the needs of your property!
"I use Bold for my pest control and they have been great! The techs Marcus and Rich are really top notch and possess amazing customer service."

Delfina E.