Carrollwood, FL Pest Control
Professional Pest Management In Carrollwood, FL
Carrollwood, FL, is a great place filled with natural beauty. Between Lake Carroll and White Trout Lake, there's no shortage of water around town, and where there is water, there are pests. These intruders rely on moisture to survive. They also need food and shelter, and where better to find them than your home or business? Pest infestations are a year-round threat for Carrollwood property owners, and the only guaranteed way to protect yourself is with ongoing services from pest professionals.
Bold Servicing is here to solve all of your pest problems. We are a family-owned and operated company proud to offer complete pest control services to homes and businesses throughout Hillsborough County and the surrounding areas. We provide superb customer service, effective product applications, and an unparalleled level of professionalism. Whatever pest problem you're facing, you're not alone. Call us today to get your free service estimate and a complimentary inspection.
Home Pest Control In Carrollwood, FL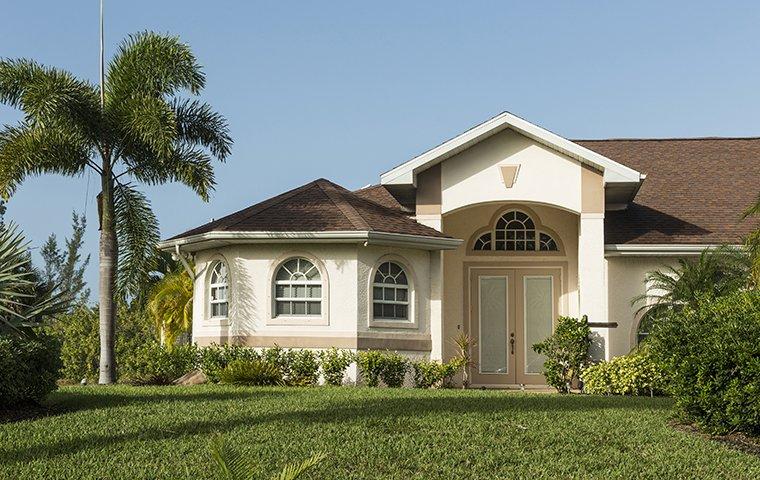 We work hard to provide our customers with premium pest protection here at Bold Servicing. Our residential pest control services have protected over 1,000 homes in the area guarding homeowners and their loved ones from household infestations.
We start with a thorough inspection, including an exterior inspection to look for pest activity, conducive conditions, nesting sites, and an examination of the foliage. We then identify spider webs, wasp nests, ant trails, etc. We inspect 15 to 20 feet out from the foundation.
Next, we move on to an interior inspection to check areas around water sources and identify possible entry points.
Our goal is to bring you and your loved ones the absolute best pest control solutions around from start to finish. Our pest-free guarantee promises free re-treatment if pests return between service visits. Get in touch with us today to discuss your residential pest control needs in Carrollwood, FL, and we'll get started right away.
Commercial Pest Control In Carrollwood, FL
In order to protect your Carrollwood business from the dangers of an infestation, it's essential to secure commercial pest control services in Carrollwood, FL, from the experts at Bold Servicing. We service a broad range of commercial properties, some of which include doctor's offices, schools, warehouses, daycares, train yards, and government-regulated facilities. Using IPM (Integrated Pest Management) strategies, we target the core of the problem. In addition to our general pest control services, we offer additional services for rodents, cockroaches, ants, wasps, bed bugs, fleas, ticks, spiders, and in-wall pest control tubes.
We offer our customers "The Bold Advantage," providing premium pest services that focus on the principles of people, products, and services. From our employees to our customers, we're in the people business. We use the highest quality, most effective products that are safe for your customers and employees. Whatever pest problem your Carrollwood business is facing, contact us today, and we'll figure it out together.
Bed Bug Control: What Carrollwood Residents Need To Know
A bed bug infestation is a nightmare to deal with. Spotting signs of bed bug activity is crucial to prevent the infestation from spreading further. To help you in your detection efforts, there are some common indications of bed bug activity that all Carrollwood residents should know about.
First, it's common to find brown excrement spots on linens, bedding, and other harborage areas. It's also common to discover tiny, red bloodstains on linens and bedding. These stains are left behind after the bed bugs finish feeding. Another indication of bed bugs is waking up with little red bites, usually in a linear formation.
If you notice any of these signs, call the professionals right away. The team at Bold Servicing is here to tackle the infestation, eliminating the problem as effectively and efficiently as possible. Call us today for a free inspection; we're here to help you address all of your bed bug control needs in Carrollwood, FL.
How To Get Rid Of Fire Ants On Your Carrollwood Property
It's unpleasant to discover populations of fire ants crawling around your property. They can spread rather quickly, not to mention the fact that they bite and sting, leaving their victims with uncomfortable bites that burn. If you are to avoid fire ants from infesting your property, it's essential to be proactive in your efforts to prevent fire ants. Here are some helpful preventative measures you can take to minimize your exposure to fire ant activity:
Eliminate access points by sealing all cracks and crevices around the outside of the house.
Eliminate any standing water and any sources of excess moisture throughout your home
Keep branches, trees, and bushes well-trimmed and directed away from your house.
Maintain a high level of cleanliness and practice proper sanitation around your home.
These suggestions certainly give you a great jumping-off point, but the truth is, your most reliable source of protection is still ongoing services from pest experts. Bold Servicing is ready to help. Give us a call to discuss your fire ant control solutions in Carrollwood, FL, and we'll set up your complimentary inspection as soon as possible.
Pest Control Plans
Part of offering a customized approach means offering a variety of plans so that you can pick the one that best fits the needs of your property!
"I use Bold for my pest control and they have been great! The techs Marcus and Rich are really top notch and possess amazing customer service."

Delfina E.