Trusted Spider Control For Your Tampa, FL Property
Of all the pests you might encounter around your Tampa property, few raise as much fear as spiders. Perhaps it's their menacing-looking fangs or how they crawl about. Maybe it's the large webs they build. Whatever the reason may be, people just seem to hate spiders. The truth is most spiders you will encounter here in Tampa are harmless. However, there a few that can be quite dangerous. Threatening or not, you simply don't want to see spiders around your Tampa property. What's worse, spiders are usually an indication that other pest issues exist within a property. If you see spiders anywhere on your Tampa property, you need to call the professionals here at Bold Servicing and ask us about our spider control solutions.
How Spider Control From Bold Servicing Works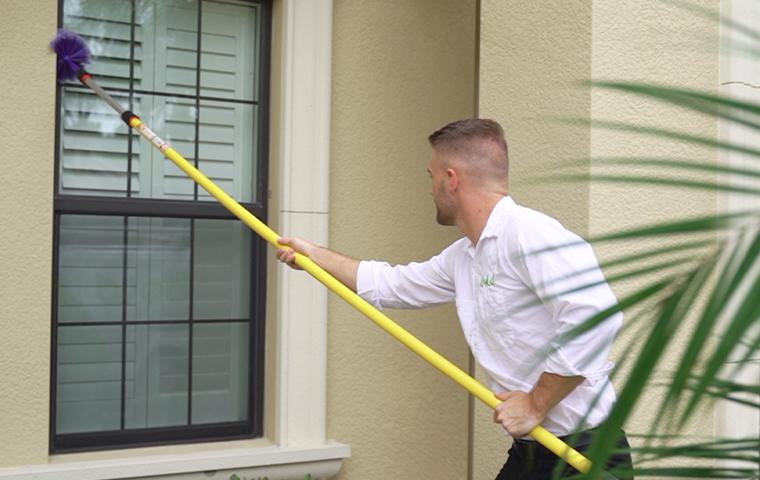 When you turn to Bold Servicing for spider control solutions, you expect treatments that will work. That's why we treat both the interior and the exterior of a property. In the end, you can be sure your entire Tampa property is safe from spider infestations.
Exterior
For the exterior of your property, we will inspect the perimeter of your building. We look everywhere from the ground to the top of the building, wiping away webs and reachable egg sacs as we come across them. We will also de-web the lanai if you have one. Following the de-webbing, we will apply a residual product with an insect growth regulator (IGR) to the areas where the webs or eggs existed. This product is designed to keep spiders from returning. Moreover, this service is included in our ongoing pest plans, and we will re-treat your property with each recurring service. We will also return between services if need be.
Interior
On the interior of your home, we can wipe away webs, put down sticky traps, and apply dust as needed. This treatment is on a recurring basis as it is included in our recurring pest control plans.
When To Call The Professionals
Oftentimes, the presence of spiders around a property is an indication that further pest issues exist as spiders will typically enter properties to feed on prey. As such, even if you spot just one spider in your Tampa property, you should call Bold Services as there could be other issues you didn't even know existed. You should consider enrolling in one of our ongoing service plans which are all designed to keep your property safe from all general pest infestations, including spiders.
Contact Bold Servicing For Effective Spider Control Solutions
If you have any further questions about our spider control solutions, or if you would like to enroll in one of our ongoing pest service plans, give us a call here at Bold Servicing, now! You don't have to put up with spiders or any other pests, infesting your Tampa property. Give us a call today to get started with a pest control solution that you can count on to effectively eliminate any infestation.
Learn more about our home pest control and commercial pest management solutions.
Request Your Free Quote
Complete the form below to request your quote.