What are mosquitoes?
Mosquitoes are some of the most annoying and dangerous pests that Florida residents deal with. These small flies cause big problems by biting people and animals to feed on their blood, spreading serious diseases in the process.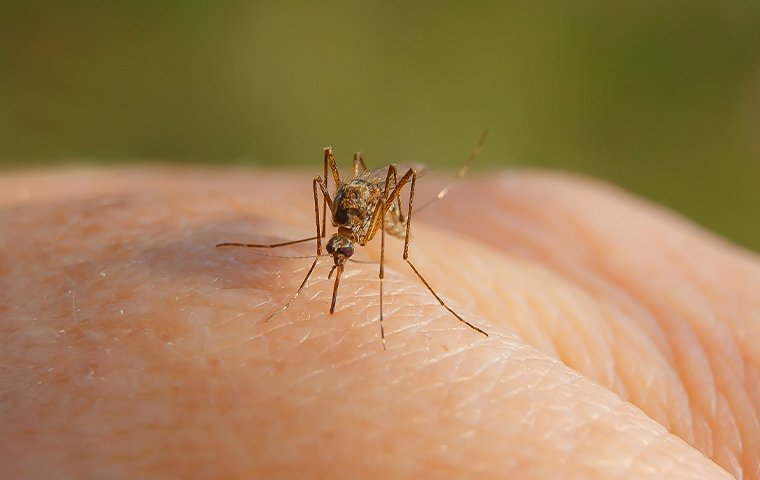 Mosquitoes live worldwide, with females biting and feeding on the blood of people and animals. Only females consume blood meals; they require the blood's protein to create viable eggs and complete their life cycle. To feed mosquitoes, use their proboscis, an elongated mouthpart to pierce their host's skin and suck out the blood.
Are mosquitoes dangerous?
Mosquitoes most certainly dangerous and are actually one of the most dangerous insects living worldwide. Mosquitoes are a threat not because of how tough they are but because of the diseases they spread.
West Nile virus, Zika, malaria, eastern equine encephalitis, and St. Louis encephalitis are all examples of diseases spread by mosquitoes in the U.S. and other parts of the world. Mosquitoes are also responsible for transmitting parasitic heartworms to dogs and cats, which is a condition that without treatment is fatal.
Why do I have a mosquito problem?
Temperature and precipitation are the two driving factors when it comes to mosquitoes. Mosquitoes in Florida are a problem year-round but are most active and found in the largest populations from April through October when our weather is the warmest.
In our yards, rainwater collects in both man-made or natural containers and provides breeding sites for mosquitoes. Below is a quick overview of the most common things mosquitoes find in our yards to use as breeding sites.
Buckets and flower pots

Clogged rain gutters

The tops of tarps and trash can lids

Low-lying areas

Tree stumps

Leaf piles and brush piles
Where will I find mosquitoes?
Mosquitoes can find their way onto and become a problem in any yard or outdoor space; however, in Florida, they are most problematic on properties with or close to the following:
Marshes

Swamps

Ponds

Low-lying areas

Wooded areas

Dense vegetation
How do I get rid of mosquitoes?
Mosquitoes are outdoor pests; to reduce their numbers and prevent large populations from developing on your Florida property, it is best to partner with a professional. At Bold Servicing, we understand how troublesome mosquitoes are and how important it is to quickly reduce their populations.
To combat these pests, we will provide the necessary services to get rid of adults and their developing larvae. We also work with our customers to identify breeding sites and eliminate them. Our seasonal mosquito control services in Tampa, FL are convenient and effective. To learn more about removing mosquitoes from your Tampa, St. Petersburg, or Clearwater area home or business, reach out to us today!
How can I prevent mosquitoes in the future?
Here are some prevention tips to help you keep mosquitoes from taking over your Florida yard.
Keep gutters clear of debris that can allow rainwater to pool.

Repair low-lying areas that enable puddles to develop in your yard and driveway.

Always store containers that can collect water upside or in a shed or garage when not in use.

Make sure trash cans and recycling bins have lids on them.

Remove areas of dense vegetation from your yard that mosquitoes can rest in during the day.

If you own a pool or ornamental pond, or other water features, make sure the water is continuously moving and appropriately treat the water.

Never prop doors open that lead into your home.
Learn more about our home pest prevention options and commercial pest management solutions.
Request Your Free Quote
Complete the form below to request your quote.