Complete Protection From Mosquitoes In Tampa, FL
One of the best aspects of living in Tampa is getting to spend lots of time outside. We are lucky to experience year-round warm weather that lends itself to a variety of outdoor activities. However, nothing will send you back inside faster than a swarm of mosquitoes buzzing around your head. These insects buzz incessantly, swarm in seemingly endless numbers, and, worst of all, they bite! Unfortunately, mosquitoes aren't just obnoxious; they can be dangerous, too. That's right! Mosquitoes are known for spreading a wide variety of harmful bloodborne illnesses.
That's why our experts at Bold Servicing have created a mosquito control program that lowers the mosquito populations around properties by 90%. No longer will you have to remain inside due to mosquitoes around your yard. Our mosquito control program customizes treatments to solve your mosquito problem so that you can enjoy spending time in your Tampa yard again.
Mosquito Problems On Your Tampa Property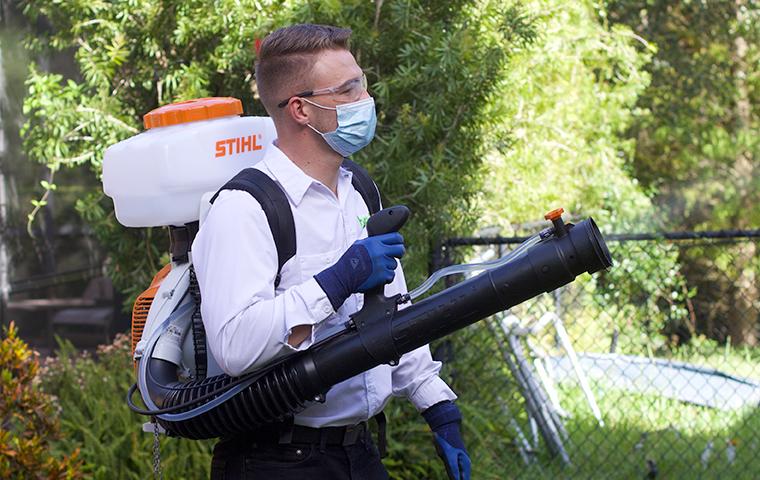 Inspection
Our mosquito control program begins with a thorough inspection of your property. The purpose of this inspection is to identify any harborage areas and other factors that attract mosquitoes. Mosquitoes spend their days resting on bushes, trees, and other foliage. We will locate these problem areas and provide recommendations for trimming back or removing overgrown vegetation that gives mosquitoes access to your yard.
Furthermore, mosquitoes lay their eggs in areas of standing water. They don't need a lot of water - rainwater collected in playground equipment, birdbaths, or puddles will suffice. We will inspect your yard for unexpected moisture problems and provide a strategy for removal.
Treatment
Following this thorough inspection, we will begin treating the yard. Our treatments consist of a misting service applied using a backpack fogger. These misting treatments will be implemented around problem areas, harborage spaces, and any other places around the property where mosquitoes might be located. While these treatments are detrimental to mosquitoes, it is safe to use around humans and pets.
More Information On Our Mosquito Control Plan
Although you can request our service at any time of year, mosquitoes are most active from March through October. During this time, we will implement our treatment once a month to ensure the mosquito populations around your property stay to an absolute minimum. Furthermore, we offer free re-services if the mosquitoes around your property persist after we apply a treatment.
If you're looking for a reduced mosquito population all season, we offer recurring treatment plans. You can even bundle our mosquito treatments with other pest control options for a comprehensive pest control plan.
Contact Bold Servicing, Now!
You don't want the frustration that comes with a healthy mosquito population in your yard. Contact the trained pest professionals here at Bold Servicing and ask us about our Mosquito Control Program. Not only will we effectively lower the mosquito populations around your Tampa property, but we guarantee your satisfaction with free re-services. Don't let mosquitoes keep you from enjoying your yard. Give us a call today to get started with a mosquito control program that works for you and your property.
Learn more about out home pest control and commercial pest management solutions!
Request Your Free Quote
Complete the form below to request your quote.