Prevent Cockroaches From Invading Your Tampa, FL Property
There aren't many things as disconcerting as walking into your Tampa home or business and seeing a few cockroaches scurry across the floor. However, did you know that cockroaches aren't just unsightly pests? They can be dangerous, too. That's because cockroaches spread a variety of harmful bacteria and human pathogens which can cause dangerous diseases. Moreover, cockroaches are tenacious pests that require expert skill to effectively remove from a property.
That's why we here at Bold Servicing offer our customers a top-of-the-line cockroach control program that works. We know just how unsettling cockroaches can be which is why our program isn't just designed to eliminate cockroaches, but to keep them away, as well. If you're dealing with roaches in your Tampa home or business, find out why our cockroach control program could be the solution you need.
How Our Cockroach Control Solutions Work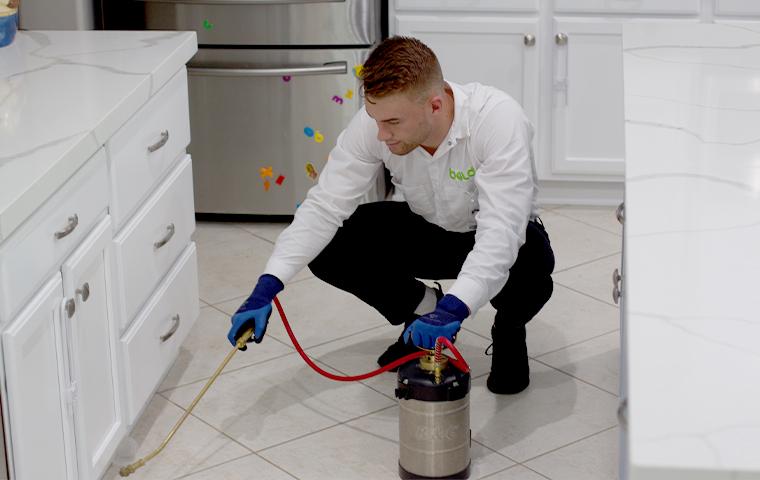 We begin a comprehensive cockroach control solution by inspecting your property, identifying the cockroach species, and coming up with a customized treatment plan that eliminates your problem. Though you may be tempted to try DIY methods for cockroach control, be aware that cockroaches evolve quickly and develop immunity against treatments. Therefore, our approaches, like cockroaches, are always adapting to ensure that they remain effective.
Inspection
The first step in removing any cockroach infestation is figuring out exactly which species of cockroach you are dealing with. This is important because some cockroach species require different approaches than others. For instance, while American and brown-banded cockroaches can be handled with the same method, German cockroaches require a more involved treatment process. So, to begin, we need to figure out what we're dealing with!
Standard Cockroaches
If you are dealing with American or brown-banded cockroaches, the first thing we will do is locate potential entry points such as around windows, under doors, or cracks in your foundation. Then, we will utilize a liquid product and granule treatment to address the roaches. We may also speak with you about taking steps to seal off entry points and other preventative things you can do to make your property less hospitable to cockroaches.
German Cockroaches
Getting rid of German cockroaches is no easy task. What's worse, they are one of the most common home-invading roaches in the world. The first step, when it comes to getting rid of German cockroaches, involves figuring out exactly which rooms are infested. In doing so, we may ask you to clear out cabinets or other areas so that we can apply treatments more effectively. Once the due diligence has been completed, we can utilize a combination of pest knock-down products, gel bait, bait stations, non-repellant residual products, precision delivery systems, and sticky traps. Furthermore, given how difficult German cockroaches can be to get rid of, we will come back and re-treat everything if needed. Also, if you enroll in one of our ongoing service plans, we will check everything once again at your next scheduled service.
Call Today For A Free Quote!
If you spot cockroaches anywhere on your Tampa property, contact the professionals here at Bold Servicing right away for assistance. If you see one roach, there are likely many more lurking throughout your home or business. The longer you wait, the more you're exposed to all the threats that cockroaches pose. Cockroaches are dangerous pests, but with the Cockroach Control Solutions from Bold Servicing on your side, you don't have to deal with them on your own. Give us a call today to get started with a plan that works for you and your property.
Learn more about our home pest control and commercial pest management options.
Request Your Free Quote
Complete the form below to request your quote.