Bed Bug Elimination For Tampa, FL Homes & Businesses
Of all the pests that could infest your Tampa home or business, not many are as hard to get rid of as bed bugs. Bed bugs are small parasitic pests that feed on the blood of mammals and some birds. Their favorite source of food, however, is us, humans. As such, they frequently invade homes and businesses. While bed bug infestations might begin around where you tend to sleep or lounge, they will spread throughout a property if they are not contained or dealt with promptly.
Just because bed bugs are hard to get rid of, that doesn't mean you don't have any options. The pest professionals here at Bold Servicing offer an effective and safe bed bug treatment that you can count on to effectively eliminate all bed bugs from your Tampa home or business.
How Bed Bug Control From Bold Servicing Works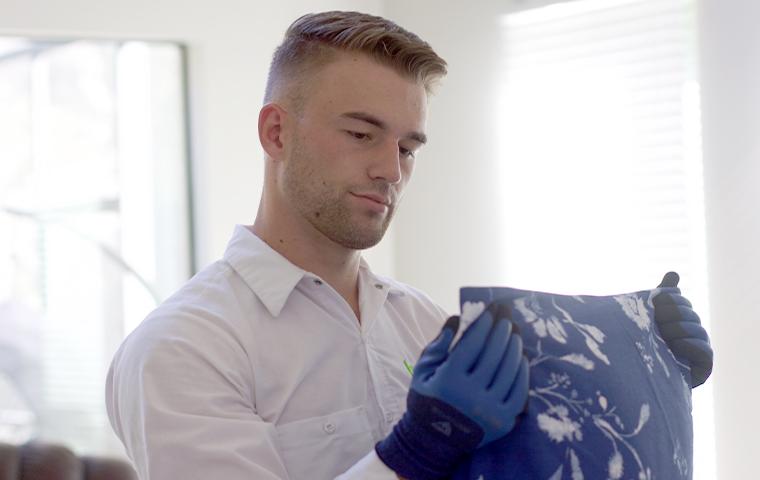 Our bed bug control process is three-fold. We begin with a thorough inspection of the property followed by treatments applied to all necessary areas, and finally, we finish by following up with you a few weeks down the road to ensure that we've successfully eliminated all bed bugs.
Inspection
First, we begin with a thorough inspection of the inside of the property. We will look at mattresses, within seams, in cracks, behind picture frames, along baseboards, behind electrical outlets, and in every other nook and cranny of your home or business. As we survey the area, we're looking for live bed bugs, blood stains, fecal matter, and any other signs that could point to a bed bug infestation. This inspection can be done manually or with bed bug monitoring systems placed underneath furniture.
Treatment
Bed bug treatments can take many shapes depending on the severity of the infestation. For single room treatments, we can either use a single product that will treat the entire room, or we can use spot treatments with residual products and insect growth regulators.
We can also treat entire homes if the infestation has spread throughout them. We apply the same products that we would use for single-room treatments. While we're doing our part, we also ask that you remove and wash all bedding as well as anything else they can wash and place into plastic bags. We offer mattress encasements if you need them.
Follow Up
We will follow up with you a few weeks after the initial treatment to ensure that all bed bugs have effectively been eliminated. If you still have a problem, we will continue treatments or alter our treatment strategy until your space is free of bed bugs.
Get A Free Quote Today!
If you would like to learn more about our bed bug control program, or if you are currently dealing with a bed bug infestation around your Tampa property, contact the pest professionals here at Bold Servicing to receive a free quote.
We know just how tolling a bed bug infestation can be on home and business owners. That's why our control program is designed to be as efficient and safe as possible. We want you to live your life without the stress and hassle associated with a bed bug problem. Give us a call today to get started with a treatment plan that works for you and your budget.
Learn more about our home pest control and commercial pest management solutions.
Request Your Free Quote
Complete the form below to request your quote.