Professional Ant Control For Tampa, FL Homes & Businesses
Although they may not be the biggest pest you come across in your home or business, ants are some of the most common property invaders we face here in Tampa. What's worse, ants can bite, spread harmful bacteria, and are extremely hard to get rid of. That's why the pest professionals here at Bold Servicing have created an Ant Control Program that works. Because nobody wants to come across ants in their home or business. Continue reading to learn more about our ant control program and how it just may be the answer you've been searching for.
How Our Ant Control Programs Work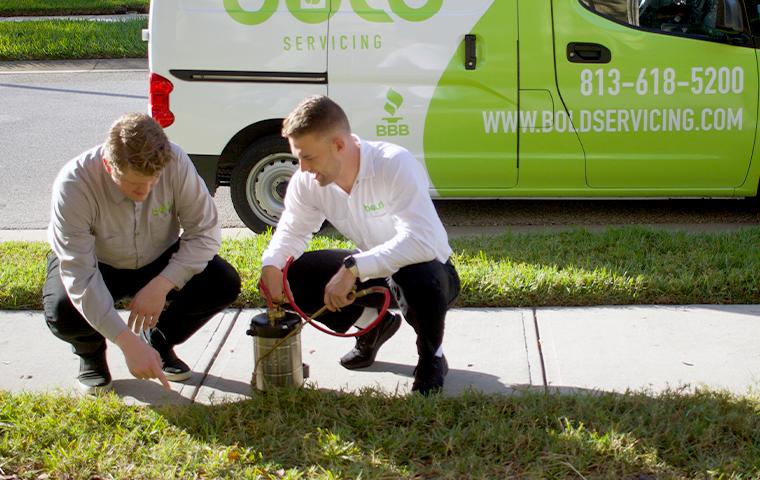 In order to understand the extent of your ant problem, we begin by coming to your home or business and inspecting your property for ant activity. Once we determine the ant species and the extent of the problem, we come up with a customized plan to solve your ant problem.
Inspection
Like most pest control, there's no one-size-fits-all solution to ant control. That's because different ant species require different approaches. Whether it's fire ants, big-headed ants, or ghost ants, each species needs to be dealt with in a manner that is effective to them. This is why our ant control program begins with a thorough inspection of your property. That way we know exactly how to approach the infestation at hand.
Fire Ants
With fire ants, we utilize a non-repellant, or a bait specifically made for fire ants. Usually, red imported fire ants will build large, irregularly-shaped mound nests, around which we will apply the treatment. We will also place out monitoring devices so that you can keep an eye on the ant population.
Big-Headed Ants
Big-headed ants build large colonies with thousands of ants. We like to place our non-repellant, or bait, around these mounded colonies. This treatment can take as many as seven days to take effect, and we will likely need to come by regularly due to how extensive big-headed ant infestations can become. Again, we will also set up monitoring devices so that you can keep an eye on the ant population.
Ghost Ants
While our ant control program begins with an inspection of the property, ghost ants require an even more extensive investigation. This is because we want to find exactly where these ants are entering your home. This can be via window sills, kitchens, and/or bathrooms. Once we know where the ghost ants are entering, we will set gel bait out around the property. We will also set up rigs to determine if the ants continue to be active or not. This bait can take seven to ten days to work effectively. We will also set out monitoring devices so that you can keep an eye on the ant populations.
Contact Us Now For Ant Control You Can Count On!
No matter the species, if you're dealing with an infestation in your Tampa home or business, contact the professionals here at Bold Servicing right away. Not only will we effectively eliminate your fire, ghost, or big-headed ant infestation, but all of the products we use are family and pet-friendly. You don't need to let ants live in your Tampa property. Give us a call today to get a free quote and start an ant control program that works for you.
Learn more about our home pest control and commercial pest management solutions.
Request Your Free Quote
Complete the form below to request your quote.