About Bold Servicing
Bold Servicing is a family-owned and operated full-service pest control company providing high-quality residential and commercial pest control solutions to the Tampa area. In addition to providing general pest control solutions, we also offer a variety of pest-specific options to ensure that no matter what you're dealing with, we can help.
Why Choose Bold Servicing?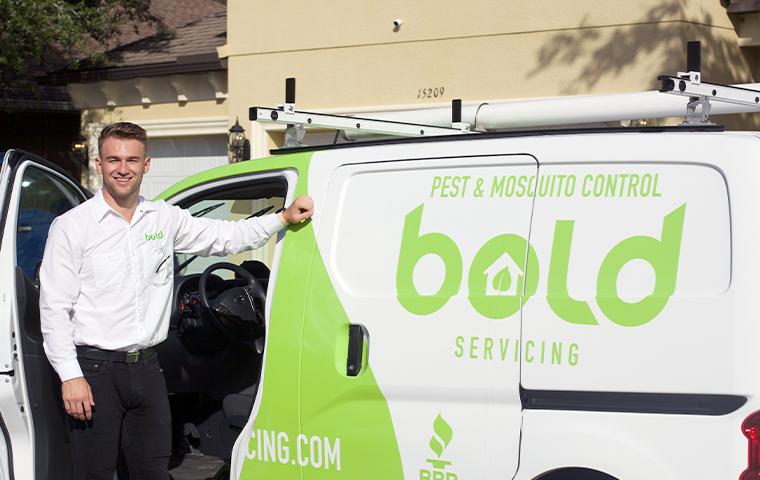 There aren't a lot of things in life that can get in the way quite like a pest infestation. Not only can they be dangerous and destructive, but they always seem to pop up at the worst possible times, too. Trust us, we've felt that pain. We know how frustrating an infestation can be, whether it's in your home or your business. That's why we offer the most effective home pest control and commercial pest management solutions to our customers. Because when you want an infestation gone, you need it done correctly.
We believe in cultivating a relationship of trust with our customers. We want you to know that when you partner with Bold Servicing, you're in good hands.
BBB Accredited

Service Guarantee

Family Owned & Operated
Everything we do is with our customer's best interest in mind. That's why all of our services are guaranteed. When you put your faith in us to get the job done, we want you to know that we're going to get it done right.
The Bold Advantage
Here at Bold Servicing, we focus on our core principles: the best people, the best products, and the best service. All of our employees are honest, hard-working individuals who are here to help you solve any pest control issues you may be facing. Our products are all of the highest quality—effective without being harmful to humans or pets. And our service is second to none. We know that there's no one-size-fits-all solution to pest control. That's why we customize our plans to fit you and your property's needs.
Request Your Free Quote
Complete the form below to request your quote.